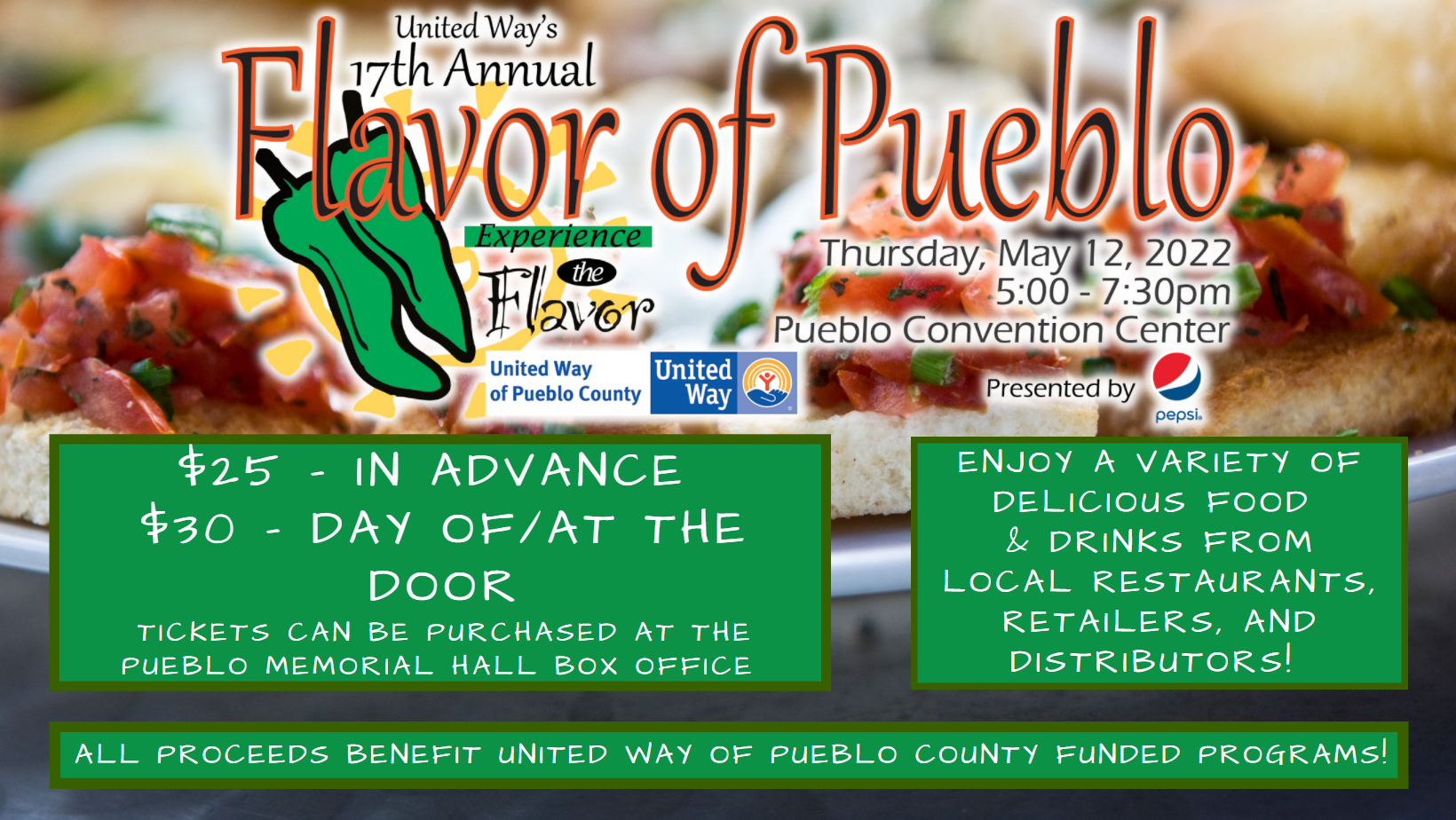 Pueblo, CO – United Way of Pueblo County's annual Flavor of Pueblo event is back for 2022 after the event was postponed in 2021 due to the Coronavirus pandemic. The 17th Annual Flavor of Pueblo presented by Pepsi will be held Thursday, May 12 from 5:00 to 7:30 p.m. at the Pueblo Convention Center. All proceeds benefit United Way.
"We are excited to be able to host this event again," stated Jimmy DiIorio, United Way director of resource development. "Not only is the Flavor of Pueblo such a tradition in our community and a fundraiser for United Way, but it also serves as an opportunity to support Pueblo's food and beverage industry. This year, we are planning some additional ways for attendees to help the industry which has been hit so hard by the pandemic and are excited for the public to take part in enjoying all the vendors have to offer while giving back."
Vendor booths are available with a sign-up deadline of April 15. Booth fees range from $50 for returning vendors to $75 for newcomers. Event sponsorship opportunities from $100 to $1,000 are also offered.
Tickets are on sale through the Pueblo Memorial Hall Box Office, 1 City Hall Place and online via a link on www.pueblounitedway.org/flavorofpueblo. Attendance is $25 in advance or $30 the day of and at the door. Tickets purchased online will incur an additional fee. The cost of attendance covers samples of food and beverages provided by vendors throughout the evening. Specialty beverages, additional food, and items will be available for purchase.
Visit www.pueblounitedway.org/flavorofpueblo for ticket, vendor, and sponsorship information.
###
About United Way of Pueblo County
United Way of Pueblo County (UWPC) serves as a trusted community leader by leveraging resources in support of collaborative solutions. Annually, UWPC works with more than 55 different health and human programs. In addition to valuable community partnerships, United Way of Pueblo County also operates the United Way Middle School Mentoring Program, Pueblo Volunteer Income Tax Assistance Program (VITA), and Bank On Pueblo County. Visit UWPC's website – www.pueblounitedway.org and social media pages - @unitedwayofpueblocounty for additional information and to find out how you can help through giving or volunteering.