---
We're excited to assist with your tax preparation needs this 2023 Tax Season!
All services are by appointment only, appointments are available! Below please find the 2023 VITA site locations.
Preparing to have your taxes prepared by the VITA Program?
Please review 'what to bring' information below to bring the needed items with you.
---
Please download, complete and bring with you. If unable to complete prior to attending, the form can be completed at the VITA site.
---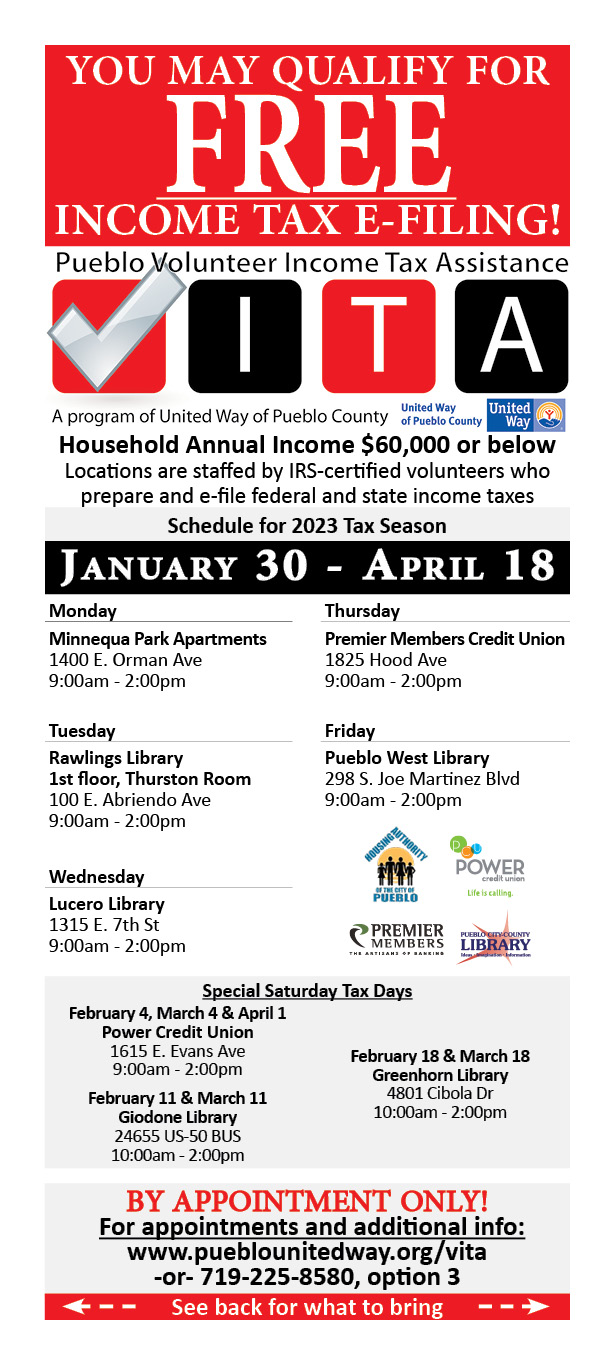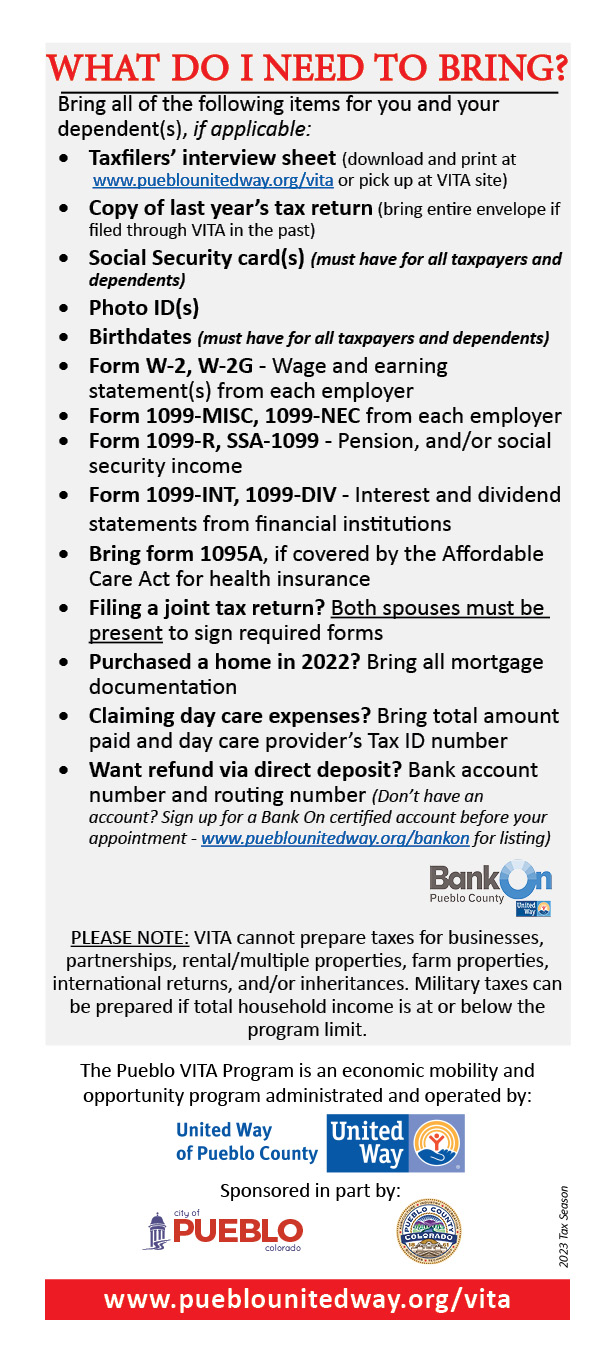 Book your appointment - Monday, January 30 through Tuesday, April 18, 2023
The Pueblo VITA Program provides free tax preparation and filing for individuals and families with a household income of $60,000 or less. VITA is a program of the IRS, developed more than 50 years ago as a means for income taxpayers to have their tax forms prepared free of charge. The goal of the program is to move people towards greater economic self-sufficiency and away from safety net services that are used during crisis situations. In addition to providing free tax prep, VITA works to ensure everyone in the community receives all of the tax credits and deductions that they are eligible for.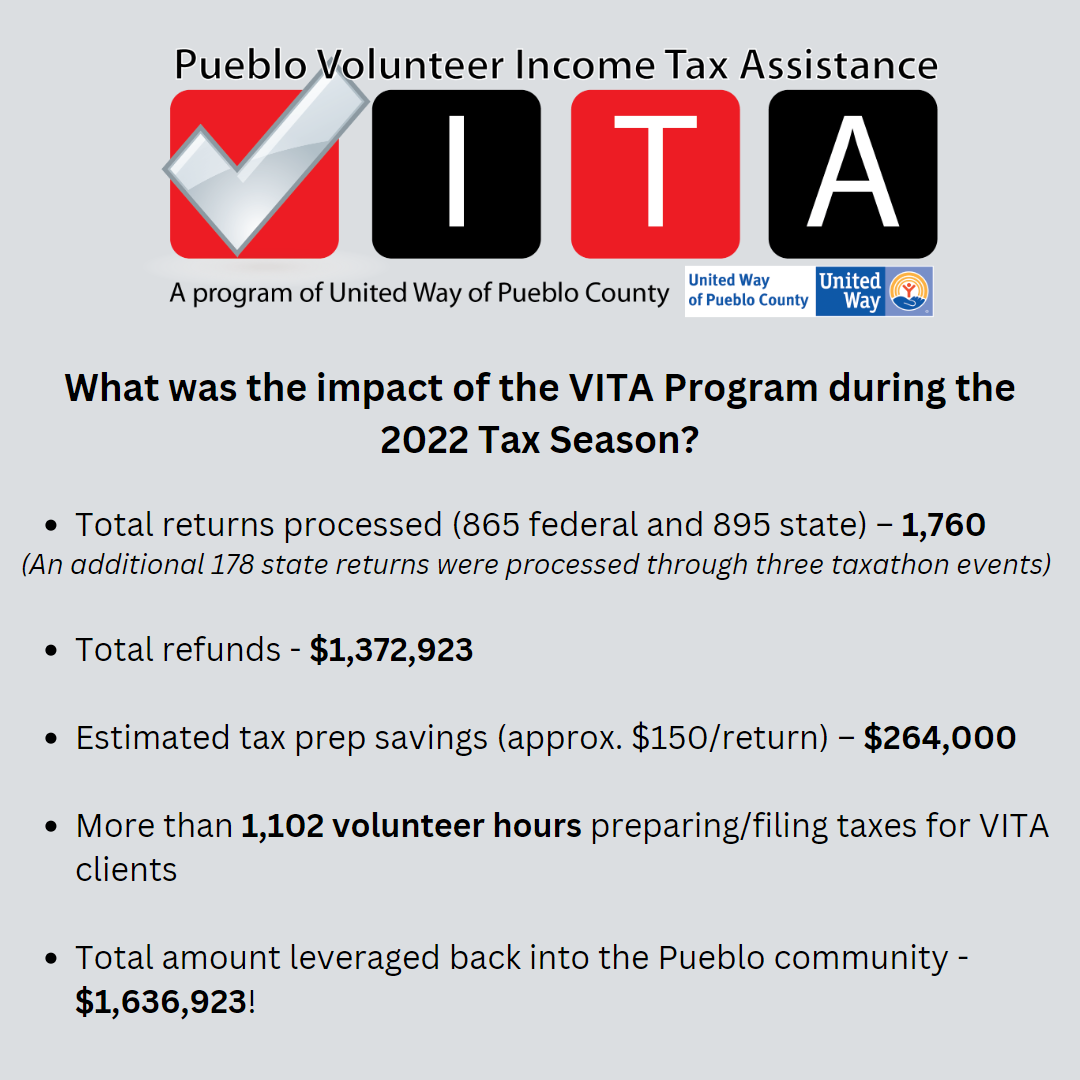 The Pueblo VITA Program processed 1,938 income tax forms (865- federal and 1,073 state) at various sites throughout the community in 2022. Over $1,636,923 was brought back into the Pueblo community through refunds and an estimated $264,000 was realized in preparation savings to the taxpayers. The 2023 tax season will be the 17th year of service to the community at sites located throughout Pueblo County.  Pueblo VITA Program emphasizes the Earned Income Tax Credit (EITC), Child Care Tax Credit, the Tax Credit for the Elderly (TCE) as well as tuition and other key credits.
---
---
For more information on the Pueblo VITA Program,
call 719-225-8580, option 3.
---
Volunteers are being recruited for the upcoming tax season's Pueblo Volunteer Income Tax Assistance Program. Volunteers serve as tax preparers, interviewers, as quality controllers or as greeters. Learn more here.
Want another FREE tax preparation option?
File your simple taxes for free, with or without help from IRS-certified volunteers, online at

w

ww.myfreetaxes.com
.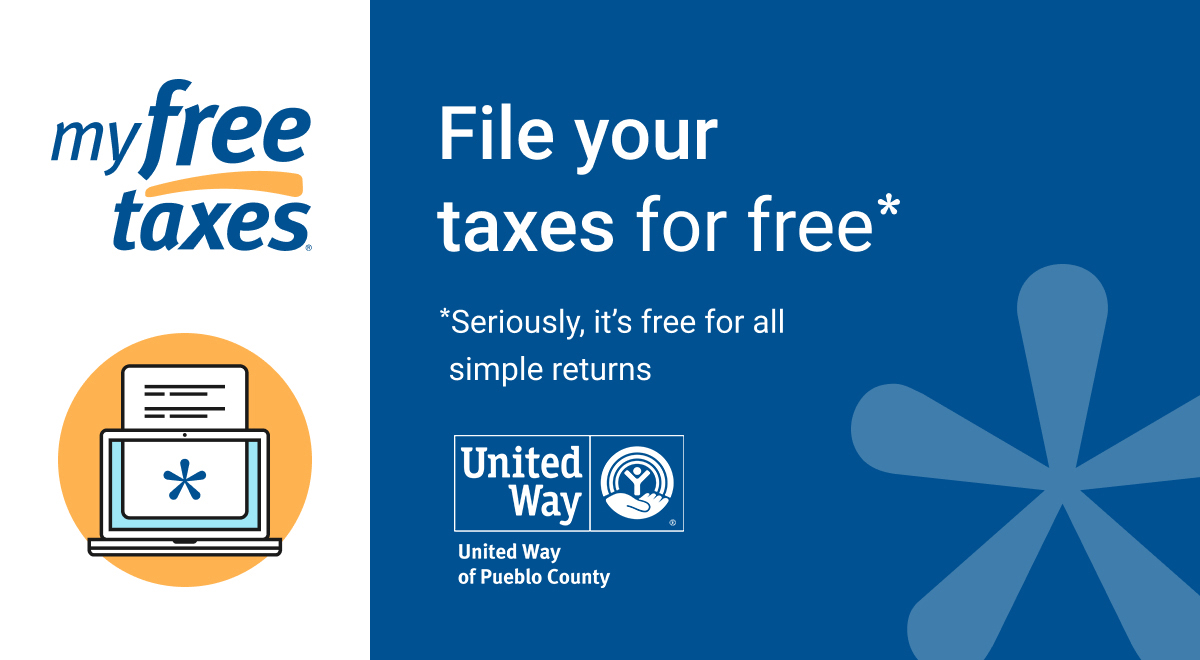 Want to learn more or get involved?
Contact us!
Julie Navarro
VITA Program - Program Coordinator
vita@pueblounitedway.org
719-225-8580, option 3