United Way is working to identify additional ways we can support you, our incredible nonprofit community, in the upcoming year and beyond. Our team, committee, and Board of Trustees is currently revisiting our Community Investments model- the various ways we support the community to determine how we can improve partnerships and support, to include, but not limited to, our proposed UWPC Nonprofit Center and other outreach opportunities. We do none of this work alone and we fully recognize that the adjustments we make affect the entire community. We want to work with you to help envision how we can better leverage supports and ensure resources are available and needs are met. LIVE UNITED is much more than a worldwide credo, it is the drive in which we return to because together we can truly accomplish great things.
This survey was designed to help provide a quick snapshot of needs which accompanies numerous conversations and observations over many years, a piece to the picture to make a collective impact for the greater good. 
---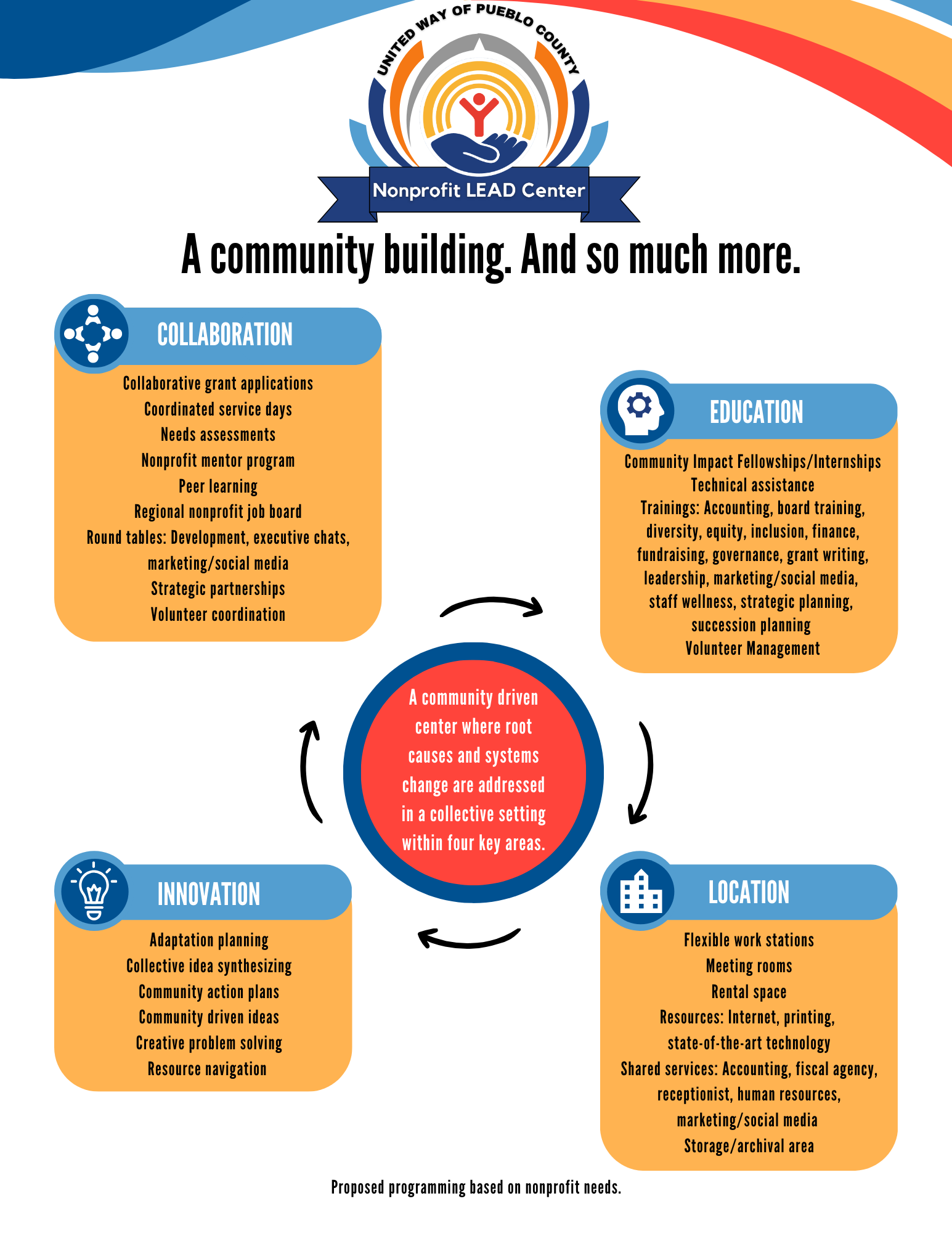 The following is a proposed project of United Way of Pueblo County.
Please note: details may change as community/nonprofit needs are continually identified.
The UWPC Nonprofit Center builds upon the solid foundation of a century of service while aligning with the future goals of UWPC's 2022-2025 strategic plan, which has included the input of staff, board members, and community nonprofit leaders, and other partners/stakeholders. Our partners expressed a desire for UWPC to address root causes and systems change in our processes and outcomes, while providing capacity building, leadership development, and funding opportunities to achieve lasting results that provide upstream solutions on key issues facing the region.
Purpose: The UWPC Nonprofit Center would serve as a central hub for convening, strategizing, collaborating, and increasing partnerships, innovation, and capacity for area nonprofit organizations. The quality of life in communities is enhanced by the presence of a vibrant nonprofit and philanthropic sector, and NPOs have a large workforce and economic impact in the region. To achieve the greatest impact in accomplishing the missions of local NPOs, the Center would help leverage resources, encourage collaboration, and improve efficiencies.
The UWPC Nonprofit Center would serve as a key resource for nonprofits, the people who work and volunteer with them. It would allow for shared meeting and office space, resources, and encourage the ability to work in partnership. Much more can be accomplished as a nonprofit community by working together than by working in silos. NPOs play a fundamental role in creating equitable and thriving communities, and we can do even more by coming together to ensure we all have the resources we need to be successful. UWPC already fosters economic growth through our community investments and strengthens many of our local nonprofits. The Nonprofit Center is UWPC's next step to expanding partnerships with local nonprofits and our community at-large. 
Project Goals: The UWPC Nonprofit Center would work to amplify the power of local nonprofits and nonprofit professionals by supporting capacity building through ongoing support, collaboration, and innovation. Proposed activities include: 
Nonprofit Collaboration/Innovation Hub: Provide networking opportunities for stimulating thought and dialogue about effective nonprofit practices, philanthropy, volunteerism, advocacy, and strategic partnerships.  
Technology/Resources: Provide innovation/meeting space with state-of-the-art technology (smartboards, video conferencing, software) to area nonprofits. Many nonprofits cannot afford the technology resources that are available at larger organizations or in bigger cities. 
Nonprofit Training Program: Provide and coordinate education and training, focusing on innovation and best practices that further build the capacity of nonprofit organizations and help them achieve their missions and visions.
Shared Resources: Shared services could be provided to help alleviate administrative and overhead cost burden to local nonprofit organizations. This would allow nonprofit organizations to place operational tasks in the hands of a trusted professional, allowing more time and resources to be directed towards making an impact in our community. Helping lower the overall overhead costs for agencies so their dollars can be used to better support the services of their individual missions. 
Training Center for UWPC's Community Impact Fellowship: A program designed to empower and develop future public service leaders while engaging in special projects or initiatives at selected host sites to support nonprofit expansion in the community that would otherwise not be possible. 
Office Space: Office space would be available to rent for small or new nonprofits at a reasonable rate. Many organizations that had to forgo office space during COVID-19 due to budget constraints or have never been able to afford a physical location would have a place to call home. 
Regional Nonprofit Training Center: Eventually, the UWPC Nonprofit Center's training and development resources could be open to NPOs throughout southeast Colorado, which could also provide long-term economic impacts for the City/County. Currently, there is no training hub like this in the region.
---
Resources for Nonprofits